Website redesign checklist and tips to follow
In Design
If you are like most companies, you probably came to the conclusion that your website is a bit outdated, old fashioned or maybe just ugly, or you just simply need to update the information…but when and how to do a website redesign in the safe way? Check out our steps below.
First of all, no matter what business you have, your website is always  the first place where to market your business, gain new clients and boost your profit. So, your website needs to look beautiful, modern and simple to use in order to make a good impression and help grow your business. That's what our designers and developers focus on when creating clean web design layouts.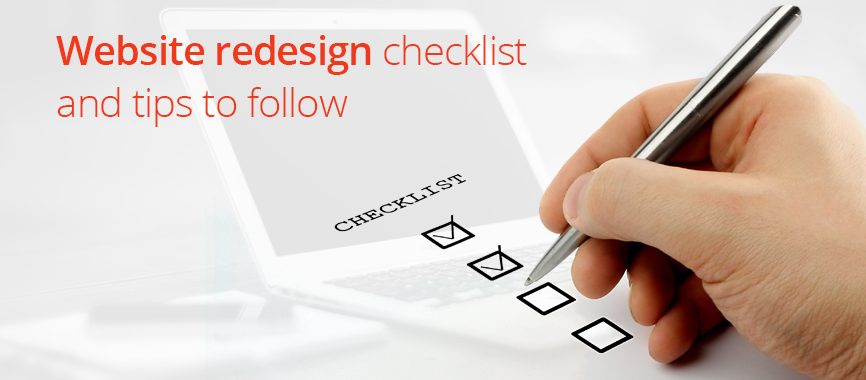 As time passed, more advanced and modern technologies came along which revolutionized the look and function of a website. In short words, new beautiful and mesmerizing websites are born or redesigned, rethinked daily. Why would your website remain old and out-dated?
If you are considering to redesign your website, here is a checklist with a few tips you might consider taking into account:
1. Define or re-define your Information Architecture (IA). This is one of the most fundamental things to do when you are planning to redesign your website. Sounds like rocket science? Not at all…Information Architecture focuses on organizing, structuring and labeling your content or information in an effective and sustainable way.
2. If your website is using a CMS (Content Management System), then evaluate and re-evaluate if you are using the right one.
3. Gather feedback from your core customers. Find out what new features they would like to see on the update or what improvements can be made.
4. Build re-usable page templates so you can move to other pages faster.
5. Re-build with responsiveness in mind in case your website hasn't been built to be responsive.  Also, take a moment to analyze if you need a responsive website or a separate mobile website. It depends on many factors which one is the best solution, you can find a lot of articles on this subject so that you can make a decision. I also may write an article about this in the future from a SEO perspective.
6. Less is more. If you had a lot of content, simplify it. A LOT! Nobody likes to read novels, especially when they are looking for an information they know you provide.
7. Prepare your content and translate it to other languages in case you have international clients and your website is in more than one language.
8. Set up the launch date and stick to it.
9. Sit back, relax and observe the differences.
10. Improve after the launch! Analyze what you can improve and don't be afraid to test some of the changes. If the results are not better than the previous version, you can always return to the previous version.
In my personal opinion, a website should be redesigned every 2-3 years, taking into consideration how much the technology changes and upgrades, but like I said in my last point, you have to improve your content permanently.
What were your challenges when you re-designed your website? You can leave a comment below and share your experience.